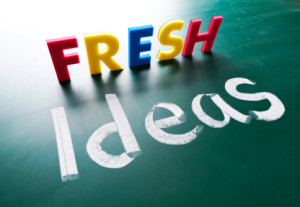 The question is not related to your personal or business intelligence, it is your business Innovation Quotient (IQ).  Your business IQ is connected to how you manage change and performance improvements in all facets of your organization, from operations to product. The origin of the word innovate goes as far back as the 16th century. It is simply introducing something new or different.
There are some companies that are perceived to "own" innovation and are frequently on lists of the most innovative companies. Expected and recognized mainstream mega brand companies like Apple, Google, Amazon, Nike, Target, Coca-Cola recently topped Fast Company's 2013 Most Innovative list, along with newer innovators like Pinterest, Sodastream, Tesla, and Yelp. They all have visible innovations and a high "product" IQ.  We come to expect they are doing something new and different all the time.  What we do not see is how these businesses innovative internally. How they get on these lists takes more than smart, cool products. We don't know how often they change employee policies, management teams, adopt new software programs or retire practices that no longer get results – unless you are Melissa Mayer of Yahoo!
What is your business IQ?  How often are you "innovating" the 4 P's: product, people, processes and policies?  If you were to rate how innovative your company is today, on a scale of one to 100, with 100 being the most innovative, where do you rank?  If you are never changing, you probably have a low business IQ.  If you are always changing, your business IQ should be close to 100.  The most realistic place to be, without completely disrupting or killing your business, is to aim for above 50.
If you are an innovative trailblazer with a high IQ, congratulations and press on!  It is difficult to stay on the forefront and constantly introduce "new" into a business. Trailblazers make change and as a result, often make money. They innovate, pivot and innovate again. Maverick companies with high business IQ are in a continuous cycle of innovation and change.
If your business is lacking in the innovation department, it may be time to set new company standards.  If you asked everyone on your executive team to provide you a recommendation of an old idea or way of doing something that needs to be retired, without measure of cost or risk to the business, what do you think would be on the list?  Perhaps it is time to find out.  Innovation begins by identification.  Where there is opportunity in your business to innovative, there is opportunity to improve.
Old or young, businesses need to always be monitoring their business IQ.  Innovation takes place within companies as well as in products and services.  Being an innovative company requires a constant and systematic evaluation of how the company will stay competitive and continue to grow or maintain sustainable profits.  The lack of innovation is a one-way ticket to performance doldrums.
Not all innovation is good and there are certainly small and big failures to note.  One point is certain, if your business is low on IQ, it is probably not maximizing the potential of products, people, processes or policies.  Start by asking the questions first. What needs to go? What is holding your business back?  Identify where you can improve your business IQ and then go — innovate!
"If you want something new, you have to stop doing something old." – Peter F. Drucker
Jamie Glass, President and CMO of Artful Thinkers