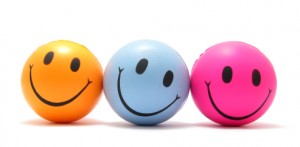 In a recent presentation by best selling author and NCAA Division I tennis champion, Roger Crawford, he asked the audience of business owners and executives, "Are you listening to your own head trash?" He explained that anxiety is focused on negative outcomes and it eliminates the possibilities.  Do you start your day thinking of the angst or promise of your business?
Several years ago, I was managing a small inside sales team for an entrepreneur with big dreams.  We were in the midst of creating the world's largest, biggest, best company, EVER. We had a vision, a defined mission and we believed all was possible.
I hired a small group of spirited, eager professionals that were responsible for driving the majority of the company revenue.  Failure was not optional.  Every work day, they had to pick up the phone and convince businesses they needed our offering.  In fact, the expectation was they had to sell 5-10 businesses a day.  Many days were filled with rejection and disappointment. Despite the constant "no", they persisted.  Dial more, ask again, always be closing, fax another brochure were our mantras.  The result, we took a small company and nearly doubled in size every year for five years.
Looking back, there is no doubt that persistence paid off.  We all knew that if we made enough calls, heard enough no's, we would get to the yes.  Four people dialing for dollars soon turned to a couple dozen sales people and eventually two floors of people making outbound calls.  We had the formula.  We had a predictable model that scaled. Open a territory, launch a new product, buy more leads, add more sales people, increase price, and the business doubles again.  It was simple math. No anxiety, just possibilities. Followed by success.
There was only one real threat to our growing business — mindset.  We needed to hire believers.  As a business, we had the tools, the resources and the product. We needed people that believed in "yes", despite all the "no" they might hear.  Our culture would not tolerate negativity. Our success was built on a foundation of positive attitudes. We could train and manage aptitude. Attitude was the difference between making our number or not.  Negativity was eradicated quickly to draw in more positive thinkers.  Only winners need apply.
Do you believe in your possibilities? Do you inspire winning? Perhaps the real inhibitor from achieving success in your business is mindset.  Happiness is proven to contribute to the top and bottom line.  Regardless the perceived "insurmountable" roadblocks of any small business, belief and persistence are your best allies as an organization.  Positiveness rolls down hill.  It is your primary responsibility as a leader to project happiness and the "can do" attitude.  Prospects respond to cheerful problem solvers.  Vendors like doing business with people that make them feel good.  Employees are more productive in happy workplaces.  Investors want to believe, in you!
In a 2012 released study, "Happiness as a motivator: positive affect predicts primary control striving for career and educational goals," researchers Claudia M Haase, Michael J Poulin, Jutta Heckhausen noted in the report abstract, "…when individuals experience positive affect, they become more motivated to invest time and effort, and overcome obstacles when pursuing their goals, in part because they believe they have more control over attaining their goals."
How do you set up your day to experience a positive affect?  Do you have a happiness ritual that puts you in the frame of mind to win?  How do you encourage happiness and inspire your employees?  In the startup phase of the company mentioned above, I would begin by blasting a song on the boombox in our little office.  My favorite play, "Here's a little song I wrote, you might want to sing it note for note, don't worry, be happy  In every life we have some trouble, when you worry you make it double, don't worry, be happy." -Bobby McFerrin
When I cranked up the volume each morning, I might see a little sneer. We started at 7AM. In the end, it was this song and our collective attitude that launched many successful careers.  We mastered our own happiness.  We mastered our destiny. We mastered hearing no and converted it to a yes. Yes to success.
As a business owner, you will face rejection by investors, vendors, partners, and customers.  Prepare yourself and set your vision on the possibilities.  Remove the head trash. If you read, listen or surround yourself with negative information, it probably will not encourage you to go out and do more. Negativity creates anxiety. Turn it off. Walk away. Choose to believe your hype, not others.
How can you inspire others to take your business to the next level?  Focus on what you and your team can achieve.  Set goals. Share the vision. Dream big. No matter how many no's you get, believe in yes!  And of course, Don't Worry. Be Happy!
Inspired by the motivational Roger Crawford, the Delivering Happiness movement and all those believers at Mastering Computers.
By Jamie Glass, CMO & President of Artful Thinkers and Managing Director of Sales & Marketing Practice at CKS Advisors.