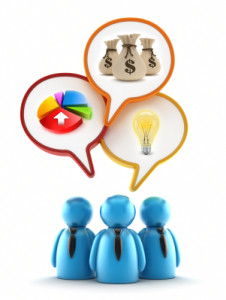 Small businesses and entrepreneurs can greatly benefit by selecting co-selling partners to drive revenues. Utilizing another company's sales and marketing resources may be a great channel to aggressively extend reach and acquire new customers.
Co-selling partnerships with businesses selling complimentary products and services to your target customer can be smart business. These partnerships can cut existing sales costs and even accelerate growth in market share. The best sales partners create a synergy between respective offerings. There should be a "natural fit" of how the products and services add value for the customer. The buyer should inherently understand why you would partner, not question as to why you did or if there is any benefit in buying from a single vendor.
Co-selling partnerships can reduce sales costs. There is a required investment in sales and marketing to grow a business. The costs of a sales team can be crippling for a new venture or small business.The overhead expenses that enable a sales person to be trained, productive, and armed with the right marketing tools, technology and product support can be onerous in the earlier stages of an organization.  Lack of initial investment often produces lack luster results and can actually cost the business even more with unexpected turnover or lengthy sales cycles. Businesses need a specific budget and defined cost of sales to properly staff, train and equip a sales organization to get results.
Time-to-market and time-to-close can be reduced through co-selling partnerships. A new sales hire ramp-up time can be 3-12 months, depending on price of goods to be sold and anticipated sales cycles. Ramp-up requires an "blind faith" investment of time and resources. A business has to invest in sales with nothing more than the anticipation and belief that something is going to be sold. It is a huge price to pay and has great risk. Utilizing a trained and experienced sales team through a co-selling partnership can help you bring revenues in while you invest in building your own sales team.
Co-selling is not free. There are costs of co-selling partnerships. A strong partnership requires investment in training and account management resources to keep top-of-mind awareness with your co-oped sales team. You also need to provide sales and marketing tools to properly equip the team to sell your goods and services. You need to be available when they have questions and to support them throughout the entire sales process.
You also need to create an incentive as to why a sales person in another organization should throw your offering into the mix. Higher commissions, faster time-to-close and value-add to the customer, are all good reasons; however, remember — sales people need to be sold too. If you extend the deal time or complicate the sales process, it will never work. Make it easy and valuable for the sales team through your co-selling partnership.
Incentives matter in co-selling. If the paired companies benefit but not the people selling, the partnership will fail. You need to set up a partner agreement for commissions and shared revenues.  A typical commission in a co-selling relationship starts at 10% of net revenue on the deal for a qualified lead pass. This type of agreement puts the burden back on you to close the deal. You are basically paying for marketing and an introduction. If the partner does all the work, including closing the deal, you may provide an incentive of 20% or more just to get that customer on your books. The structure of the agreement and commission rates should be based on your financial projections and cost of goods and associated expenses in managing the customer post-sale.
What doesn't work? Relying on commission-only sales teams and partnerships that are by name only. There are business owners that believe they can get a motivated, committed sales person to work for free. The odds of making this type of relationship work are close to nil. The relationship between a company and it's sales team, whether a direct hire or partner, is measured by the commitment from both sides. Small businesses may have to tier commission levels based on the ramp-up of sales or find ways to create early non-cash incentives; however, no one should be expected to go out and sell without a financial commitment. The words "you get what you pay for" should ring loudly if you are thinking about commission-only or finding people to sell for you because they like you.  Sales people that are really good at closing deals are expensive because they have a huge ROI.
Attributes of great co-selling partners to consider are the size of the partner's sales team, market reach, relationships with your customer and available support the sales team receives in training for new products. The partner must have the means, connections and existing relationships to introduce your products to market. Co-selling means they will take an active role in selling. Again, partners by name only often produce little value.
If you choose to use co-selling partnerships, embrace the model and build support for the partnership. Show your loyalty through your commitment to make the partnership last and benefit everyone including the customer, the sales person and the partners. Create value by talking about the partnership and promoting the relationship. The results you get from this co-selling will be directly tied to the amount of time and resources invested in the partnership. You have to give to make it work and really pay off.
"In reality, the only way a relationship will last is if you see your relationship as a place that you go to give, and not a place that you go to take." – Anthony Robbins
Jamie Glass, President and CMO at Artful Thinkers @jglass8
Related to a series of posts on partnering.  Also read: Sales Referral Partners Lead to New Customers