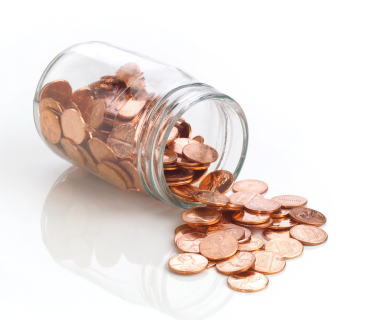 A common challenge for business owners and executives is to avoid "tripping over shiny pennies." What does that mean? It is the attraction and distraction of the newest, latest, greatest shiny object in our path.
We all seem to have a trained eye to spot the bright copper commodity at our feet, no matter where we are headed. The shine is overwhelming. We stop. We pick it up. We put it in our pocket. Then we declare our latest "find" to be lucky. A sign of great fortunes to come.
Shiny pennies reflect a fiery glow that is hard to avoid. Old pennies lack the shine and sleekness that keep our attention. They seem drab. They are tried and have traveled far, gathering dirt and grime along the way. They often find homes in jars, drawers and bottles. New pennies have power. We have willed the new penny with charm, a source of inspiration, as we traverse along the pathway of possibilities.
The penny is representative of all the ideas and opportunities that land in front of us, one right after the other. Every time we stop to evaluate a new idea, we are taking our attention away from our current plan of action.
Navigating through the countless opportunities, or shiny pennies, requires determined focus and unbridled commitment to a planned strategy.
Unfortunately, in business the sparkling object we stop and pick up is often worth exactly the minted value – ONE CENT. Consuming ourselves by the possibilities of what the perceived lucky penny might bring can actually cost a business many pennies, if not fortunes.
New is not to be avoided. New keeps us innovating and testing. The overwhelming desire to continually focus on the new penny in our pocket, can be a big distraction from working on the current business plan. Shiny pennies have a time and place. Some will need proper evaluation and careful consideration. If you are feeling consumed by all the shiny pennies, set a time in your day or week to focus on these new ideas.  Plan for "new" within your plan. Budget the costs associated to testing the new ideas.
Apply the "penny test" in our course of evaluation.  What is the real cost associated to adding this penny to the jar of other shiny pennies?  Will you spend more in product development, sales and marketing?  How will it change your business model? Is there an impact in supply chain and distribution?  How will customer's respond?  Every new penny that you stop to pick up needs thorough testing and vetting, with an effective cost-benefit analysis. The amount of work to evaluate the penny is expensive, so not every penny is worthy of much attention.
Be cautious of the allure of the sleek and sparkly new. After all, it is just one cent – shiny or not.  If you are always tripping over pennies, you might just fail to see the dollars falling from the sky.
"If had a penny for every strange look I've gotten from strangers on the street I'd have about 10 to 15 dollars, which is a lot when you're dealing with pennies." – Andy Samberg 
Jamie Glass, President and CMO at Artful Thinkers