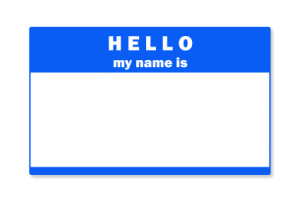 At the close of a large entrepreneur event, a small business owner came up to the registration desk and offered a suggestion. He felt like his name badge should have more than a name. He wanted a badge filled with all his information: name, company, title, website, email and phone. Then, he would talk to more people and more people would talk to him.
In an effort to help himself, he went ahead and scribbled all his identifying details in fine print below his name. Unfortunately, his details were written so small it required someone to lift his badge up close to read it.
In his view, his networking experience was hindered by only having a name to identify himself and others. The name-only tag "forced" him to have a conversation, instead of oddly reading someone's detailed badge to self-select whether he should engage them.
My empathetic response, "I understand how you might feel more information on the badges could help you. I appreciate your suggestion. I do feel that you can open more doors, when you directly talk to people. Perhaps we have a different view of the value of these type of events and networking."
My non-empathetic response, "Your name doesn't open doors. It won't sell you or your business. Your story, your enthusiasm and your passion are what engages others. It's awkward to read someone's name and then turn away. Then again, maybe we have a different view on what sells you and your business."
What was not revealed to him was that it was intentional to only have a name on each badge. Why? To provide an everyone the opportunity to connect, share and learn. A convenience for each attendee to have an open door to sell themselves, their solutions and their business. Written words never sell. Written words affirm. It is the verbal story, the questions, the conversation that closes the deal. It is the interaction that really matters. It is looking someone in the eye and asking, "What do you do?" The name on your badge only facilitates an easier way to start the conversation.
No matter how many words you use to invite someone into to your lair, the offer is only as good as what you have identified through an engaging dialogue. A conversation. A two-way exchange. It answers, what can you do for me and what can I do for you? Value is created by the time you invest to ask, listen and qualify. It is the ongoing assessment that takes place during the conversation that defines opportunity. The number of conversations you have helps you measure the success or failure of your valuable time spent at an event or networking.
Business owners sometimes feel if they are equipped with mountains of content, leave behinds and written justification, the buyer will sell themselves.  In fact, written content is just an invitation. Invite to learn more. Invite to perk interest. Collateral and content does not sell a product or service. Collateral documents and illustrates. People are best for selling goods and services.
Networking and events give you a formalized occasion to have a dialogue. To learn and share. Those that will not talk to you because of your name-only tag are short sighted and often losing the opportunity to learn the real value of you, your offerings and your ideas. Conversation requires a back-and-forth tailoring of information that can be customized to your address your precise needs.  We only buy what we need. The listener is always waiting for you to make it about them. In their mind, they are waiting for you to tell them how you help them or solve their problems.
Less information on a name badge gives you the polite excuse to inquire, "Tell me what you do." A badge or name tag should never give you reason why not to engage. Ask. Inquire. Question. That is how you benefit from any event. Do not hide behind a 3 x 4 card hanging around your neck. Use it as a chance to address the person by their name. "Jim, what is your reason for attending the event today?"  "Mary, are you an entrepreneur?"  This provides you the best opportunity to qualify, inquire, learn and discern if the person has something to offer you and you have something to offer them.
What's in a name? That which we call a rose by any other name would smell as sweet. – William Shakespeare
By Jamie Glass, President and CMO of Artful Thinkers, follow: @jglass8 @artfulthinkers
The event noted in this post was the Innovation Arizona Summit 2013.  Read more about the event here.