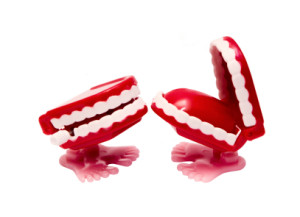 If you had to solely rely on word of mouth and referrals to grow your business, could you? Would you?
It depends on your word of mouth power, the factor from which you attribute new customer acquisition by recommendations from others. The ultimate test to measure your word of mouth power is to forecast the growth of your business through a single source — referrals. Would you miss your revenue target or exceed financial expectations?
Word of mouth (WOM) requires talkers. People who are willing to stake their reputation on telling others about you, your business and your value. Word of mouth marketing (WOMM) may be the most cost effective way for you to grow your business, if you have invested in creating an army of talkers. Talkers are promoters, followers, happy customers and raving fans.
WOM marketing and advertising is often advocated as free. This is simply not true. The outcome of word of mouth may be free from cost of sales. WOM requires a significant investment. An investment in resources that will carry your message forward. An investment of time educating others on the value of your products and services. An investment in exceeding customer, partner and employee expectations. Acquiring new customers may factually require a smaller investment than buying ads and cold calling; however, it is not investment free. You need to invest in your word of mouth strategy to make sure it really pays off.
You can invest in a WOM strategy by giving people a reason to talk and by continually asking others to talk about you and your business.
Invest in WOM by giving people the proper tools to share your message. Talkers are your most valuable source for marketing, if they can speak from first hand experience. You can buy fans. Buying fans does not create loyalty or truth telling. The best talkers are those that trust you will deliver your value. They are someone who has found your solution to be worthy of sharing and promoting to others.
Knowing what others are saying about you and your business is measured by the amount of customers acquired through word of mouth.  If no one is referred to you by WOM, that is a danger sign. People are not telling others about your value. A bigger red flag might translate to a reputation problem.  When is the last time you asked your fans, customers or employees to spread the word? Are they enthused to get the word out or hesitant to refer others to your business?
People talk about what they like, what they trust and what they value.  All of these are earned markers of success in business. You earn them by doing a great job and exceeding expectations. The markers are currency. A currency that is transferred by word of mouth referrals. Start by setting your marker to do great work and then ask people to start talking. When they start talking, you have power. You have the power to win new customers by word of mouth.
"I would rather earn 1% off a 100 people's efforts than 100% of my own efforts."  J. Paul Getty
Jamie Glass, Founder, President and CMO of Artful Thinkers