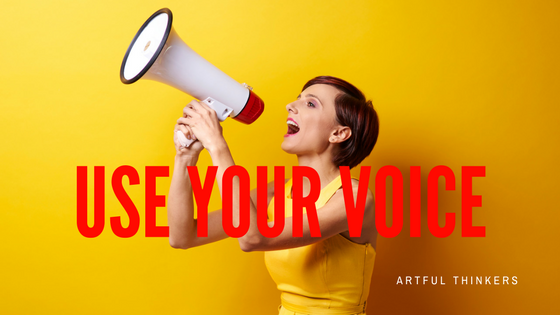 The voices in business that reign supreme above all others and provide the most value are the voice of your customers, internal and external, and your own voice.
Regardless of strategy, goals and plans, if you are not listening to your customers, nothing else matters.
The Voice of Your Customer
Voice of the customer (VOC) is the practice of identifying the needs and demands of those that engage with your business by asking them to participate. VOC opens the opportunity for you to learn your customer's concerns, desires and ideas. You are inviting them into a conversation by providing a platform to engage.
Whether they are buyers, influencers, partners, employees, or the community, together their voices define your brand. They are the real embodiment of your brand's customer experience.
The "voice of the customer" is a process used to capture the requirements and feedback from the customer in order to provide best-in-class products and services. This process must be proactive and constantly innovative to capture the changing requirements of the customers over time.
Customers are the only reason for a business to exist. It's who you serve. Your purpose for being in business. Without a transaction or trade, there is no exchange for goods and services, for profit or not. In other words, if the only person "buying" what you are selling is you, then that is not a business. It's a hobby or a gift.
Listening to your customers, which means all your stakeholders, is fundamental to growth and innovation.
The collective expressions, from complaints to praising testimonials, define your organization. It's the good, the bad, the passive and the unknown.
Do you know what your customers are saying about you?
How do employees feel about the place they dedicate a good percentage of their working hours each day?
What is top of mind for your partners and investors?
Do you all these constituents know what you value?
Is everyone empowered and encouraged to use their voices?
It Starts with You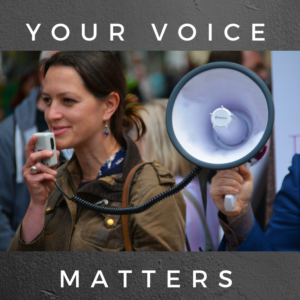 The second most important voice in business is your own.
Communication is two way. We are learning about the silent voices, who are changing the course of business today by no longer staying silent. These voices are setting the standards for which we will operate in the future. These voices are shaping our definitions for what we will tolerate, or not. What we will accept and what we will teach others as to how we will engage and interact. Everyone is watching and listening to those that are using their voice.
Business leaders can not be silent if we expect our customers and employees to use their voice to guide, teach and share.
If you want to be heard, if you want to be respected, you need to speak up. Now. We all need to use our voice. It is our power. It provides us the ability to declare what we will allow and accept as a course of doing business and in our lives. It clarifies what we will tolerate in our communities and how we will be represented. Our voice expresses how we are to be understood and what others can expect from each of us.
As leaders in business, it is our ultimate responsibility to provide a platform, as well as the security, to utilize all voices. It is inherent in transformational and transparent cultures, which enable and empower every single person in the business to have a voice.
Leaders must say, let their voices be heard. We are listening. We will respond. We will engage. We will act. We will not ignore. All of your voices matter.
Back Up and Start Again
We have long spent years in training people to be good listeners. The practice starts early. Remember this, "Shhhh, listen and don't interrupt!" Yes, we are told to be quiet and listen at very early ages. At home, in school and on the job. When are we taught to speak up? It often comes years after constant "shushing" and being told respect comes from not questioning others and being quiet.
We need to encourage and demand others to use their voices. It starts with every single person using their voice to encourage change and to uphold standards of accountability. Say something. Don't be silent.
Unlearning the fears related to saying how they feel or how we are harmed requires as much practice and training in business, as does teaching people to be better listeners. Both need to be equal within the corporate culture. Leadership needs to intervene, transform, support and train others to participate in using their voice, as well as be cognitively aware of constant listening. Reinforcing this by having specific programs for listening to customers is one way companies can demonstrate their "best practices" related to voice of the customer (again, internal and external).
Voices Are Out There in Mass
The voice of the customer has been empowered by the strength of social media and our ability to share billions of pieces of content every day. Companies are seeing the voice of their internal customers publicly on display in platforms like LinkedIn, Glassdoor and Comparably. Is this how you learn about your internal customer's concerns? Is this where prospective job candidates find out about your culture?
Our external customers are experiencing the greatest transformation in using their voice. They have individual and collective powers that can promote and destroy business reputations. They don't even have to be a customer to have a voice. Have you seen the boycotts that come from people that don't even use the product or participate in the service? The bandwagon is full and these voices carry great weight and influence.
The internet age birthed an expressive outlet that has since grown exponentially by every second. What happens in internet real time gives you just a glimpse of how much content is being voiced across the globe every second. Are you watching? Listening? Are these your customer's voicing their concerns? It's business, not personal.
The volume of voices is beyond our grasp at the scale of the internet; however, they can not be beyond our grasp within our organizations. We must put in practice voice of the customer programs and practices in order to succeed in business.

powered by Betfy.co.uk
Do you really know what your customers want and what they don't want? Remember, it's not about you or what you think they want.
Ask them. They'll tell you.
10 Ways to Empower the Voice of Your Customers
Call your customers. Yes, pick up the antiquated phone and call. Don't text, don't email, call. Engage with at least 2-3 customers a week. Ask them, how are we doing? What can we do better? Anything you would like me to know? Most CEOs do not call customers until there is red hot issue or they already fired you. That's too late. Never be afraid to learn from the person that pays your salary – your customer.
Interview buyers. Create buyer personas by interviewing prospects, buyers that use your competition and your customers. Know what they need. Ultimately the products you design and services you offer should be based on the customer needs – if you truly want to grow the bottom-line.
Survey internal and external customers. Ask for feedback from your customer and employees. This is more than a employee or account review. This is a moment in time single questions for asking how they like the company or are they satisfied? Go one step further and add a couple questions for real intelligence gathering. What would they change? What will make you buy more of what we offer in the future? Use standardized feedback programs like Net Promoter Score (NPS) to set benchmarks within your organization. It's a way to identify the voice of your raving fans and the voice of your distracted influencers. Often you'll uncover the fastest paths to retaining customers and employees is through feedback you gather in a simple survey. People will share, if you ask.
Feedback forums, innovation labs and focus groups. The best product design engineers will tell you that the most profound changes often came from these groups and forums. It's the buyers and users. They know what they want and what they don't want. Test groups and feedback loops give you valuable insights. It also reduces unnecessary cycles of development and money spent making something better when it really didn't matter. The mechanisms to build-in technology to gather insights and use cases today make it easy to deploy and gather valuable information.
Events and customer programs. Give the opportunity for your customers to share their ideas, best practices and "delight" by sharing advice with your other customers and prospects. This is also very valuable to employees, who can get face-to-face time with customers to learn what excites them as well as the pitfalls that distract and destroy relationships.
Social listening. Utilize every platform available to actively listen to your customers. Watch for opportunities to create engagement, ask for further information. Respond and take action. It demonstrates your commitment to customer care.
Everybody sells. Find a way for everyone in your company to participate in the sales process. Offer ride-along programs with top sales reps. Give team members the opportunity to listen in to customer calls and meetings. Record presentations with your customers for training. Capture comments and evaluations from demos and share these "voices" with the employees. Everyone in the company is a sales person and they should know how to represent the company by hearing the customer voice.
Customer service and feedback loops. Gather input and provide recaps and training on key customer issues to the entire organization. Utilize first-hand experience and real customers to provide real accounts of the experience. Recognize those that are engaging with the customers each day, those that are doing the heavy lifting to ensure your customers are happy.
Measure VOC. Define your program and assign key performance indicators that enable you to constantly know how the company is performing related to brand, customer experience, listening, feedback and service.
Use data. Analyze trends and do data spot checks to ensure the voices are being heard and the information is used to guide the company forward. Start with survey data from NPS or customer satisfaction surveys, analyze retention and buyer frequency, measure engagement, track user experiences and monitor daily customer activities.
Use your voice. Learn from other voices. Empower those around you to use their voice. Show others it is safe and OK to do so. Ensure your customers, internal and external, that you will protect them when they speak up.
All voices have a right to be heard and it is right to listen to all of them. Most importantly, it is right to use your own voice. Speak up. And listen. Both will provide great rewards and opportunities to learn.
Jamie Glass, Founder and CMO of Artful Thinkers, a sales and marketing consulting company.